Software Companies help business sectors to become technologically solvent. That saves time and costs. Here is a list of Professional Software Companies who are based in Mohakhali DOHS, Dhaka, Bangladesh: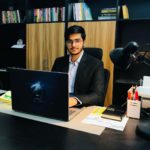 Mohammad Ashraful Islam
10 April 2022
Devs Core is a software development company that provides enterprise software and effective solutions for managing business operations and customer relations according to your specific business needs. We believe in building trust and strong relationships with our clients as a collaborative approach delivers the best results. We are the best software company in Bangladesh, affording the best software maintenance.
SPARK IT is one of the largest IT service provider in Bangladesh.Since 2008, SPARK IT has connected technology solution providers with users nationwide, identifying markets and technologies that shape the IT industry. For SPARK, its customers are not only the most important stakeholders; rather they are regarded as the most valued partners as well. And we aim to establish SPARK IT as the leading company and reach its services nation and worldwide. From the beginning SPARK IT was promised to keep a potential role on technological advancement. We've been in this business for over 10 years, and now we have 17 team members working day and night to serve our Customers demand.
We are Invento Software Limited, previously known as Invento Bangladesh based in Dhaka Bangladesh. We have started our journey in 2014 into a small room with only 3 people but with big dreams to achieve. Initial focus was building web and mobile applications. Within a year we have introduced retail and enterprise software products in market. In last 6 years our company has shown continuous growth & served more than 100 happy clients locally and globally.
Our digital marketing team helped launching international brands in Dhaka and created vivid brand presence in digital space for many national and international brands.
We are a creative agency dedicated to turn your ideas into reality exactly the way you want them. We guarantee completion of clients' projects in minimal time with no compromises in the creative quality of our work. revinr aspires to deliver beautiful and interactive experiences complemented by functionality. We specialise on a variety of platforms and technologies, ranging from responsive web development, database infrastructure development and implementation, mobile applications design and development to software design and development.
WB Softwares Is Your IT Solution Partner . WBSoftwares Is A Recognised Servicenow Sales Service And Training Leader .As Bangladesh Is A Developing Country We Are Creating The Environment Such That It Can Grow More.
This Company Can Ensure You Full Support. WB Softwares Employees Have Diligently Worked For Years. In These Past Years Our Main Concern Was Customers Satisfaction And Will Work For Securing Its Reputation As A Well Known Company In Bangladesh.
Cloudly is the cloud native services company, leading the most complex technology projects in the world. We leverage the innovative capabilities of the cloud to help customers build new revenue streams, increase efficiency, and deliver incredible experiences. As a Consulting Partner, our unmatched expertise with AWS means we've been there, done that, and bought the t-shirt. We focus on results (not PowerPoints) as we help our customers uncover new possibilities to put them on the leading edge of innovation in their industry.